Young Liberals Winter Conference was held at St Catherine's College in Oxford this year was a great success. We had a very high turn out with us selling over 110 tickets!
Whether you attended or not please give us your feedback in this short survey to help us organise future conferences. See below for a day by day report of what went on at Conference!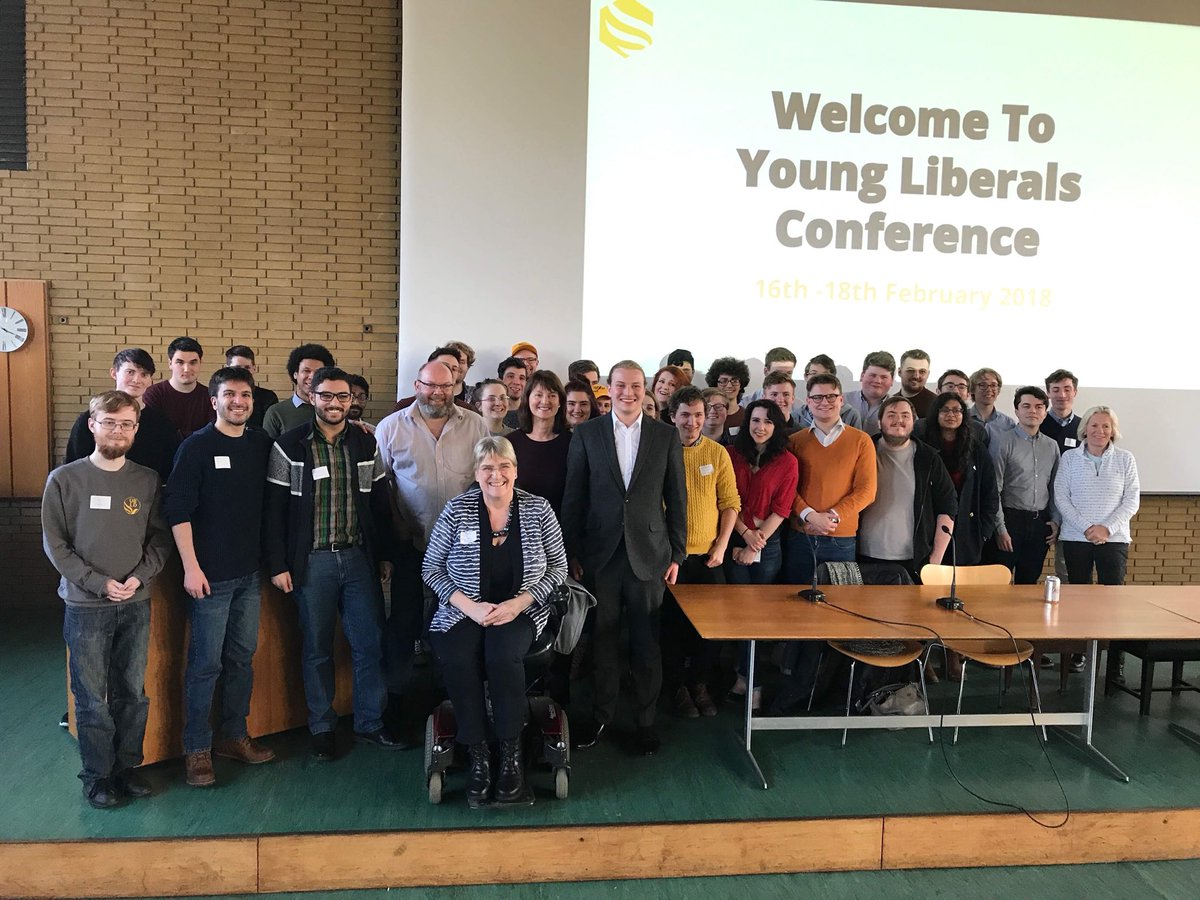 Friday
We started off with fantastic speeches from Liz Leffman, leader of the Liberal Democrat English Council, and Party President Sal Brinton, giving talks on by election success, and the newly released Alderdice and MacDonald reviews.
We then had Young Liberals veteran and campaign organiser for Layla Moran, gave a presentation on what makes a successful election campaign and how the party should move forward in replicating the success of Oxford West and Abingdon in future elections.
Then we had some further campaign training from journalist and previous London Young Liberals Chair Abbie Llewellyn, who gave a fantastic presentation on the Freedom of Information Act, how to use them, and how they can be useful when campaigning. To learn more join the Lib Dem Friends Of Successful FoI Requests.
Honorary President, Tessa Munt, ran a session on how to canvass, and kindly shared her canvassing script with YL Members.
Your Liberal Britain kindly ran a Policy Brainstorm event, and have shared their event pack so that you can run your own events.
Saturday
This is when the motions kicked off. Young Liberals passed motions on the following:
Student Loans (including capping graduate fees, reformation of the graduate loan system, and reformation of the means testing of grants and loans).
Education, where we support Jess Insall's motion she passed as Scottish Conference for schools to offer pupils gender neutral uniforms.
Health, including support for the Mental Health Act to be reformed so that that Restriction Orders are not used unjustifiably to detain, rather than treat, and The availability of all drugs for medical use and research to be decided solely by medical regulatory bodies on the basis of medical evidence, in the same way as any other form of treatment.
Employment, on the Government to produce updated guidance for employers on how to implement the 2010 Equality Act in relation to those on the autistic spectrum, taking into account the developments in the understanding of the autistic spectrum that have occurred since 2010.
No to Unpaid Internships.
Yes for protection of undocumented immigrants.
Freedom of Choice on Abortion, including legislation for protest free zones outside abortion clinics, and to remove abortion from criminal law.
Votes for Prisoners.
For more information on the motions passed click here!
Sunday
This was the conclusion of conference, starting with an active executive reports session including one successful motion of no confidence in our policy officer, which we will be co-opting a member for shortly, while we welcome Tara Copeland as our interim policy officer. This was followed from a talk from the Green Liberal Democrats about environmental activism, we passed our emergency motion on the UCU strikes. More about that can be read here.
We finished conference with Muswell Hill Council Candidate and former Young Liberals Welfare Officer Scott Emery, with Aberystwyth Councillor and former Young Liberals Chair Charlie Kingsbury giving an excellent talk and advice on being a young candidate.
The Future
After the success at Winter Conference we hope to see more of you for Spring Federal Conference (where we have a stall and training sessions planned), and look out for news of our Summer 'Activate' Conference coming this August!
---
Find out more about our work - sign up for emails today:
---